Personal Website Designer Included
We have a wide variety of designs to choose from for your website. Our designs are also mobile friendly so that they automatically scale to screens of any size. We assign you a personal web designer who will help you configure your website and customize the design to fit your needs.

Membership Management Software
Our software streamlines membership administration for organizations of any size. Members can register and renew their membership, view their account balance, make payments and more. Each transaction automatically generates invoices and creates an accounting entry.

Features Encourage Member Interaction
Members also use our long list of features to interact with one another. Administrators choose which features to enable on the website. Keep members engaged with message boards, classifieds, member directory, business reviews, photo albums and questionnaires.
How Does Membership Management Software Help?
By automating processes, our membership management features help administrators spend less time managing their member data. Administrators enjoy the ability to manage their membership online, increased interaction between members and have more timely communication.
The website also makes automatic accounting entries as activity occurs on the website. This also updates financial reports. No more dealing with interfaces and exporting data as you try to keep systems in sync. This is the realization that makes administrators more efficient and allows us to automate tasks that matter most.
Our membership interaction features are designed to bring your members together. Profile details are shared in the directory, unwanted items find new homes in the classifieds and the message board keeps the discussion going. All designed to create a positive experience for members of your organization.
Let us show you how much better things will be with membership management. Take a tour and feel free to contact us with any questions. Also, download our brochure to share with others.
Features Designed For Member Participation
Since 2001, we have designed our features to be useful, user friendly and improve efficiency. Nearly all of our features are a direct result of the feedback and needs of our clients. By developing our own software, we have the ability to specifically tailor our features to the needs of membership management. Members can check their account balance through the website. Members can also update their profile information, view upcoming events and download forms. Administrators can generate invoices and receive notifications when a payment is made online. Our software is also flexible allowing administrators to choose which features and abilities are enabled on the website. Let us show you show you how we create a better experience.
Summary Of Membership Management Software
RSVP For Events
Posted events can be enabled for members to choose if they will be attending.
Text Messages
Messages can be sent immediately or scheduled to be sent at a future data and time.
Custom Profiles
Self service enables members to view their own profile information and make updates.
Account Balances
The website automatically calculates each member's account balance based on transactions.
Financial Reports
Automatic accounting entries feed financial reports to help you analyze your financial health.
Accounting
Invoices, payments, refunds, credit memos, deposits, dues and even products are all covered.
Mass Emails
Members can be sent email messages that are customized with details from their profile.
Member Directory
Members are listed in the online directory and can upload photos and choose their privacy options.
Chapters
For organizations with master and sub associations, members can be assigned to a chapter.
Let us show you the benefits!
Explore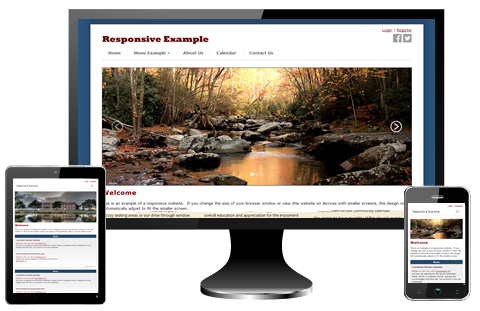 Mobile Friendly Websites
Responsive For All Screen Sizes
There is no need for an app to be created nor a separate website for visitors using a mobile device. We are able to create a single website that automatically resizes and optimizes based on the visitor's screen size. This gives you a cost savings and gives members a uniform experience that custom fits on desktops, phones and tablets.
What Our Fans Have To Say
After having a terrible experience with another website provider, this was such a pleasure! Development of the website with their tools was so easy and our web designer was always so quick to get back to us and so helpful. He explained everything thoroughly and in user friendly terms. I would highly recommend!

I am amazed at how quickly my website came together! I thought it would take about a month, but it was up and running within a week. And it was so easy, especially with the step-by-step process. I highly recommend this website service to any membership association wanting a professionally designed website.

We are very happy with Membership Space. The service we received from our web designer was impressive and the flexibility and tool-set of the site is very easy to use and productive. I strongly recommend them to any association looking to develop a website for themselves.

Thanks once more for working with me on our new site. You are always very easy to work with and quick to respond. I am already getting very positive feedback on it already and I know the members will enjoy the new features. I don't have any more sites up my sleeve but you never know!

You are a joy to work with. You work fast and efficient and helped us get exactly what we wanted faster than we thought possible.

Our Golf Association is thrilled with the new website. I love the detailed instructions and knowledgebase. Your staff were very responsive and I often received immediate replies to my emails. We are now live and everything is running smoothly. Thanks for a great product at an affordable price.

This is the 4th site we have done and it has become the defacto standard for our association websites. Owners and Boards love the website. Thanks for making this easy for us non-tecky folks to manage websites.

This is the second time I've used Membership Space. I was so impressed with how easy it was and how they helped me through the entire process that I decided to use them again to build a site for the swim and tennis club in my neighborhood. They make building and maintaining websites a breeze!

Many kudos and much appreciation to your team for getting our website up and running under a tight time frame. We will definitely be saving money and getting much better customer service than we had in the past.

I wanted a beautiful design that would complement our beautiful coaches and Membership Space fit the bill. I have had nothing but positive feedback from our members as to the ease of navigating to various parts of the website. My web designer was more than patient with me – he was an absolute saint!

What Happens At Membership Space?
Our days are often like any other. We're answering questions, listening to feedback, creating documentation and developing the next super idea. By having our entire team under one roof and developing all of our software in-house, we are able to provide our clients a membership software solution that specifically targets the needs of associations and give our clients fast support when they need help.
What Is Different?
In 2005, we shifted our focus to creating meaningful websites that solve problems within associations. This led us to developing software that automates processes and improves documentation. To increase the satisfaction of association members, we wanted to help members interact with other members and easily use the website regardless of their technical knowledge. With feedback from our clients, we continue to develop our membership software with these concepts in mind.
We Understand Membership Associations
How can you help members feel like members?
Keep members thinking about how they can be involved in your association by posting events on your website. Our membership management software features, such as Upcoming Events and Calendar, allow the details of each event to be listed on your website in chronological order. Individual events can also tie into our RSVP feature so that members can indicate if they are or are not attending the event. For members attending the event, custom questions help management gather the additional information that they need from each member.
Periodic newsletters used to be a primary way of keeping the association's members informed. Unfortunately, newsletters are not timely and take a lot of effort to create and distribute. Membership websites have simplified communication because information can be immediately shared with members as the information is available. All of our software features help managers add content to the website by using our non-technical tools.
Regardless of how much information is posted on the website, if members do not visit the website the information will not be seen. One solution is for managers to send mass emails and text messages to members through the website. This informs members about the latest news and encourages them to visit the website for more details.
A lot of time can be spent reminding members that their membership renewal date is coming up and how much they owe. We have automated this process with scheduled renewal reminders and easy online payments. Managers can create multiple email messages and schedule each message to be automatically sent a predetermined number of days before or after the member's renewal date. When a member is ready to renew, they can view their renewal invoice and make the payment directly through the website. The website also displays a message to remind the member that their renewal is coming up. This eliminates the biggest excuses for why members do not renew their membership.
Check out all of our membership management software features to discover how we can help your association. Also, contact us as you think of questions.
We offer a lot of features specifically to help membership associations:
Pending item alerts
Member self service
Assign members to chapters
Member directory photos
Membership renewals
Custom forms
Membership rules
RSVP for events
Message board
Photo albums
Automatic accounting
Online payments
Invoices and expenses